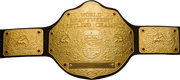 In CAW professional wrestling,the World Heavyweight Championship - alternatively,the Global,International or Universal Heavyweight Championship - is the name given to certain championships by promoters.A wrestler holding a championship with this name is referred to as the World Heavyweight Champion. The World Heavyweight Championship is a generalised name for the top title usually found in CAW feds.The following Belts are Undiscovered Caw Talent Wikia's version of the title in several feds.
OCW World Heavyweight Championship
PASW Undisputed Championship
YCW World Heavyweight Championship
EWE Undisputed Heavyweight Championship
TWE World Heavyweight Championship
Note:Every CAW Show's Championship you cant find here is because it doesnt have a link on the CAW Show's page.
Ad blocker interference detected!
Wikia is a free-to-use site that makes money from advertising. We have a modified experience for viewers using ad blockers

Wikia is not accessible if you've made further modifications. Remove the custom ad blocker rule(s) and the page will load as expected.