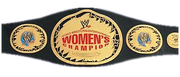 In CAW professional wrestling the Women's or Divas Championship is a professional wrestling championship for the female Division.Usually is used as a "midcard" championship but many times you will see it on the "top" of the show. The following Belts are Undiscovered Caw Talent Wikia's version of the title in several feds.
Note:Every CAW Show's Championship you cant find here is because it doesnt have a link on the CAW Show's page.
Ad blocker interference detected!
Wikia is a free-to-use site that makes money from advertising. We have a modified experience for viewers using ad blockers

Wikia is not accessible if you've made further modifications. Remove the custom ad blocker rule(s) and the page will load as expected.