Warpath is a pay per view event run by XWF. It was the sixth pay per view event in season 1, but it is unconfirmed if it will return in season 2.
Warpath 2013 (Season 1)
Edit
Warpath 2013 was released on 28/01/13 and featured the following line up
Exclusive dark match as part of the Pre Show released four days before the pay per view event.
 Static Vs Skinner
Warpath main show line up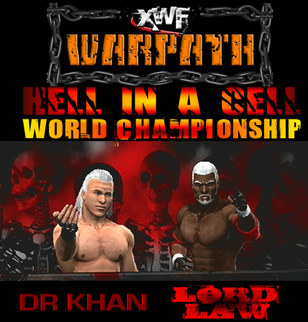 Mike "The Viper" Jacobs (c) Vs Dave Crator (Internet Championship)
Hardcore Hate Crew (c) Vs T-Unit (Tag Division Championships)
Crow Vs Knightmare
"The Supernatural" Matt King (c) Vs Junction (No Holds Barred Championship)
Luke Loynes Vs Damage
Lord Law (c) Vs Dr Khan (Hell in a Cell for the World Heavweight Championship)
Ad blocker interference detected!
Wikia is a free-to-use site that makes money from advertising. We have a modified experience for viewers using ad blockers

Wikia is not accessible if you've made further modifications. Remove the custom ad blocker rule(s) and the page will load as expected.