VWE Network
Edit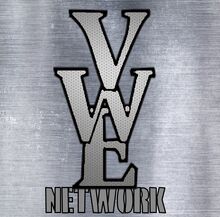 The VWE Network is a future wrestling channel that will feature a weekly highlight show and is run by VWE which is now on the Monkeyvision Channel but will be moved to VWE Network the slogan of the Network is "The New Era of CAW Wrestling is Here"
even tho the channel is up and can be found (Link: https://www.youtube.com/channel/UCwU_1zx-D5pEx2Bk4aBALSg ) the channel has one videos and the major shows like Raw and NXT will not be debuting till 2015 but CPV will be out before being on monkeyvision's personal channel until after wrestlemania 1 where CPV will be exclusive to the network
Wrestling Shows
Edit
VWE Raw
Top 10 Greatest _______
Slammy Awards (yearly)
Hall Of Fame (Before Wrestlemania)
VWE NXT
VWE SmackDown
Confirmed Yearly CPV
Edit
Royal Rumble-December
Elimination Chamber-January
Wrestlemania-February
Extreme Rules-March
Over The Limit-April
Ad blocker interference detected!
Wikia is a free-to-use site that makes money from advertising. We have a modified experience for viewers using ad blockers

Wikia is not accessible if you've made further modifications. Remove the custom ad blocker rule(s) and the page will load as expected.