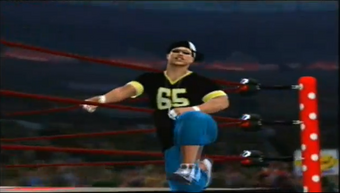 The Grish is an original CAW, who is currently signed with the CAW promotion ELW (Extreme Legacy Wrestling) and WEDF (Wrestling Entertaiment Dynasty Federation). 
WEDF (2010 - Present)
Edit
For more info on his WEDF statics and career, visit:
http://www.youtube.com/user/InternetCAWrestling
ELW (2012 - Present)
Edit
The Grish made his ELW debut at Extreme Rules he would then form tag team with Vega and won the ELW Tag Team Championships after defeated John X and Justin Blair. Later after wins the titles, the team was called Gangsters but changed their team name to Funky Cool. At Danger Zone Ep. 1, alonside The Grish said they are the best tag team and the best ELW Tag Team Champions in ELW but were interrupted by Flash and Dash where they said they had to prove it and challenged for the titles at The Bash. At Saturday Night's Main Event, accompany Vega in his match against Dash. At The Bash, alonside Vega will make his first title defense against Flash & Dash.
Championships & Accomplishments
Edit
WEDF:
2011 Funniest Moment Of The Year
ELW:
ELW Tag Team Champion - 1x with Vega
Ad blocker interference detected!
Wikia is a free-to-use site that makes money from advertising. We have a modified experience for viewers using ad blockers

Wikia is not accessible if you've made further modifications. Remove the custom ad blocker rule(s) and the page will load as expected.