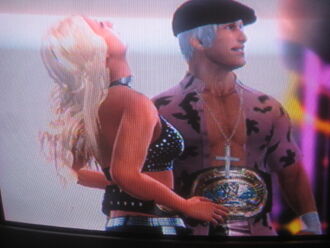 Roijin Anko is an original CAW currently signed to ELW (Extreme Legacy Wrestling), DWF (Dynasty Wrestling Franchise) and ZWW (Zblaze World Wrestling).
ZWW (2010-2013)
Edit
While still working with DWF Anko joined ZWW with his women Maryse. The two joined ZWW to become the most dominate couple in ZWW. Their main goal in ZWW was to the 1st couple to have the the Women's Champ and any other title. This all came threw when at ZWW:BrazilMaryse became the Women's Champion and atClashmania 4 when Anko became International Champ. Anko winning the International Champ at Clashmania 4from K-Skills in a mixed tag team match. Where as if Maryse and Anko lost she would lose her belt. Maryse started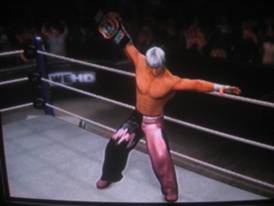 feuding with Nicolemaire and Anko got in it when he almost attacked her but was stopped by Jack Evans he would go on to defeated Evans in a singles match. At The Survivor 12 Anko lost the International Championship the same way he won it in a mixed tag team match for the Women's and International Championship Anko and Maryse lost there title to Nicolemaire and XS1. Later Anko was fired.
ELW (2013-present)
Edit
It was reported that Roijin Anko had signed a contract with ELW (Extreme Legacy Wrestling). His debut date is unknown.
Championships & Accomplishments
Edit
ZWW:
International Champion - 1x
DWF:
DWF Heavyweight Champion - 1x
2011 Mr. Money In The Bank
DWF Tag Team Champion - 1x with E. Martini
DWF Cruiserweight Champion - 2x
BDW Cruiserweight Champion - 1x
DWF Tough Enough Member (2008)
Host of the "Strategy Guide"
2011 Slammy Award winner for Breakout Star of the Year
2011 Slammy Award for OMG Moment of the Year (Cashing in at Caw[N]spiracy)