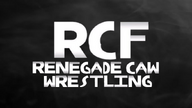 RCF (Renegade Caw Federation) is a new gen CAW company run by Vandy Phoeuk. It is currently in its first season. The company would begin operations on October 28, 2016 when it came out with its first CPV, Extreme Rules.
Ben Barnett is the Chairman of RCF
Main Roster
Edit
RCF Champion - Darien Dupes
RCF World Heavyweight Champion - Ryan Hunter
RCF Intercontinental Champion - Johnny Extreme
RCF United States Champion - DoggyDog
RCF Tag Team Champions - SWED (Roacher & Francaios)
General Manager: Vandy Phoeuk
​Anarchy:Edit
General Manager: Angel Alexander
​Tag Teams:Edit
Season 1:
Edit
Ad blocker interference detected!
Wikia is a free-to-use site that makes money from advertising. We have a modified experience for viewers using ad blockers

Wikia is not accessible if you've made further modifications. Remove the custom ad blocker rule(s) and the page will load as expected.