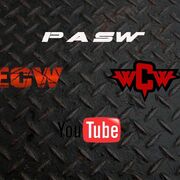 This is the calendar of Supershows that will be taped in 2013 by PASW.
Supershows or CPVs of 2013Edit
(30/03/13) PASW Raw Attitude
(06/04/13) PASW X-MackDown
(13/04/13) PASW/ECW Barely Legal
(06/07/13) PASW Superstar of the Year Tournament CPV
(20/07/13) PASW Backlash
(03/08/13) PASW In Ur House: The Summer Slam!
(31/08/13) PASW Anniversary Bash
(14/09/13) PASW World War III: The Rumble
(28/09/13) PASW WarMania III
Ad blocker interference detected!
Wikia is a free-to-use site that makes money from advertising. We have a modified experience for viewers using ad blockers

Wikia is not accessible if you've made further modifications. Remove the custom ad blocker rule(s) and the page will load as expected.