Omega who is an original CAW is currently signed to the online federation OWF (Online Wrestling Federation).
NSWL (2010-2011)
Edit
Omega debuted on the second episode of NSWL Friday Night Nitro under the name Mr. Omega in a winning effort over Shark Boy. The two would face off the next week, Omega losing this time around. Omega returned to NSWL in the Wrestlemania Pre-Show Gauntlet where he was eliminated by James. Two days later, Omega asked was granted his release from the company.
OCW/OWF (2011-present)
Edit
Debut and Syndicate
Edit
Omega after his departure from NSWL, joined OCW under the ring name of just Omega. In his debut match, he lost a #1 contender's bout for the Intercontinental Championship. At Extreme Rules, Omega would face Mistico in a winning effort. He would then challenge for the Intercontinental Championship at TLC but lost. At the Royal Rumble, he alligned himself with Caesar Dan and Greg Savior to form The Syndicate. Omega was an entrant in the Royal Rumble but did not win the match. He and Greg Savior would become Tag Team Champions at Elimination Chamber with their victory of Rockstars (Joe Angelo and The Wingman ). However the two wouldn't hold the belts for long as they would drop the titles after 1 month to DJ Hero and JZ at Wrestlemania.
Return to Singles Competition; Intercontinental Champion and Injury
Edit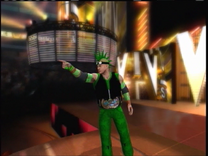 After Caesar Dan left the company, Omega and Greg Savior split to focus on their singles careers. Omega would go on to win the first ever championship scramble match at Summerslam for the Intercontinental Championship. He would hold the title for 2 months before he lost it to YCW's Jason Daniel. The match also featured ELW's Lula and PWF's Alieus. Omega would then be injured by the Ascension at Survivor Series. It was said that he suffered a dislocated shoulder and would need 2 months to recover. Omega returned from injury on the second episode of OCW Nitro. He was defeated by Archangel.
After OCW's demise, Omega signed on with OWF (Online Wrestling Federation) When he will redebut for the new brand is unknown.
Championships & Accomplishments
Edit
OCW/OWF:
Intercontinental Champion- 1x
Tag Team Champions- 1x with Greg Savior