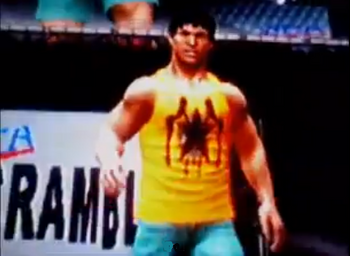 Icon is a original CAW, who currently signed to WCA (Wrestling Championship Attitude). He is brothers with DeadMan.
WCA (2013-present)
Edit
Beginings; WCA Champion and feud with DeadMan
Edit
Icon made his debut at Summerslam and would face Big Dad in a winning effort. At Night of Champions, Icon was involved in a 6 Pack Challenge for the WCA Championship where it came down to him and Hero where he ultimately lost to him. At Vengeance, Icon won the WCA Championship after he defeated Hero in a "I Quit" match. At Survivor Series, he successfully retained the title against Hero. At Versus, he cost his brother DeadMan the match to Croe VL. Later same night, he lost the title to TJL after interference from DeadMan. He would go on to the Royal Rumble Match but failed to win. At WrestleMania 1, he lost to DeadMan in a Three Stages of Hell match, ending his feud.
Pursuit of the gold
Edit
After Wrestlemania 1, he was drafted to Velocity. At Money in the Bank, he entered in the Velocity MITB Ladder match but lost to Big Dad. Icon was then put in a Championship Scramble match for the World Heavyweight Championship at Scramble but failed to reclaim the prize. At Night of Champions, he faced to AJ Reyes for the Youtube Championship but failed to capture the belt. After the match, Reyes wanted to shake his hand but he refused. He is scheduled to face again AJ Reyes for the Youtube Championship at December to Dismember.
Championships and Accomplishments
Edit
WCA:
WCA Champion - 1x
Youtube Champion - 1x
Entrance Song
Edit