Havok (Sometimes stylized HaVok) real name Graham Brennan is a professional wrestler from the world of CAW. He is currently signed to the XWF.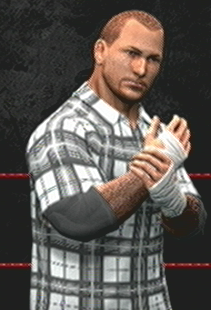 Early Years 2005-2007
Edit
Havok started out as a singles wrestler in the CSOW, he was often put in the role of "curtain jerker" performing in dark matches and such. After a year of wrestling small dark matches Havok began to feud with Jake "The Assasin" Wilson in a nine month feud that would culminate in a bloody match which Jake Wilson would come out of on top. Many belived that dispite the loss Havok had a bright future ahead of him. Strangley enough to many fans despair Havok dropped out of singles competition and joined T-Unit along with Fosher, The Grebbel, Fatt Matt, Mark Thorndy and Handley, where he would win the CSOW Tag Team Championships and hold them for a record breaking reign of 364 days.
XWF Career
Edit
The Owner signed Havok alongside Fosher and The Grebbell, bringing them in with the intention of expanding the tag division. Havok however was the only one of the group who found himself in the first ever Demolition Series. He progressed through the first round by defeating Dominic Spade but was eliminated by Big D in a match that lasted less than 10 seconds. After the embarrasing eliminaton Havok once again appeared to leave the singles competition and focus on T-unit, but much to his dismay continued to lose matches. Soon enough Havok and The Grebbells relationship became volatile and after an argument Havok entered a C.W.O gauntlet match which crown the winner a place in the C.W.O. Havok gained a controversial win over Mike Jacobs and won a place in the C.W.O. He has since had some of the better singles success of his career, including two seperate titles reigns (one Internet Championship reign, and one No Holds Barred Championship reign) Havok would later betray the C.W.O at the Redemption PPV and join Tommy T Thomas.
Finishing and Signature Moves
Edit
Finishing Move(s)
Signatures Move(s)
Chaos Clutch.
Facial Reconstructor
XWF Title History
Edit
1x XWF Internet Champion
1x XWF No Holds Barred Champion
Other Title History
Edit
1 x CSWO Tag Team Champion
Ad blocker interference detected!
Wikia is a free-to-use site that makes money from advertising. We have a modified experience for viewers using ad blockers

Wikia is not accessible if you've made further modifications. Remove the custom ad blocker rule(s) and the page will load as expected.