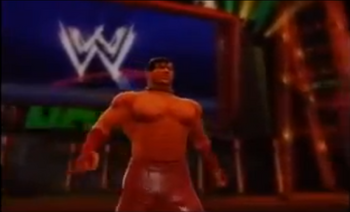 Hartless is a original CAW who currently signed to YUW (Youtube Championship Wrestling). He is a former Intercontinental Champion in YUW.
YUW (2012-present)
Edit
Debut, Xander Guys & Various feuds
Edit
Hartless made his YUW debut at Summerslam attacking The Smasher with RJ, but it was because Mr. Xander had ordered him. At Hell In A Cell, he teamed up with RJ to defeat The Smasher. At Survivor Series, he form part of Xander Guys (RJ and Straight Code Star) to face The Smasher & United Kingdom (British Savior and British Thunder) in a losing effort. At TLC, he and RJ faced The Smasher in a winning effort.
At the Royal Rumble, he entered at No.15 but was eliminated by RJ. At Elimination Chamber, he went on to Max Cassidy and Japan Hero in a Handicap match defeating them easily. Hartless attacked Japan Hero and then Tray & Nathan Diasper at WrestleMania 2. At Extreme Rules, Hartless attacked and injured Straight Code Star. At Money In The Bank, he competed in a Fatal 4 Way Match for the Intercontinental Championship but lost to Doctor Z. At Summerslam, Hartless defeated Doctor Z to become the new Intercontinental Champion. However at Night of Champions, he lost the title to Jax in a Battle Royal that also consisted of Mario Sanchez, The Smasher, B. Rob & Viper. At Unforgiven, he was defeated by Jax in a rematch for the title after Straight Code Star interfered and hit him with a Go To Sleep. At Hell In A Cell, he defeated Straight Code Star in a Last Man Standing match. At Survivor Series, Hartless teaming with The Wingman and Tyler Rollins in a losing effort against Mario Sanchez, Straight Code Star & Jax.
At the Royal Rumble, Hartless would enter at No.10 where he would eliminate 5 people (Straight Code Star, Angus, The Smasher, Nathan Withers & 3D) before being eliminated by Amazing Troy. He is scheduled to compete in the Elimination Chamber match for the World Heavyweight Championship at Elimination Chamber.
Championships and Accomplishments
Edit
YUW:
Intercontinental Champion - 1x
Finishing and Signature Moves
Edit
Finishing Move(s)
Signatures Move(s)
Two-Handed Chokebomb
Black Hole Side Slam
Entrance Music
Edit
Theme Song:
"Slow Chemical" by Finger Eleven
Ad blocker interference detected!
Wikia is a free-to-use site that makes money from advertising. We have a modified experience for viewers using ad blockers

Wikia is not accessible if you've made further modifications. Remove the custom ad blocker rule(s) and the page will load as expected.