Hardcore Hate Crew are a tag team currently active in the XWF. The team is made up of Penance and Malice and they are known for their high flying style. Hardcore Hate Crew currently hold the record for the longest Tag Division Title reign in the XWF.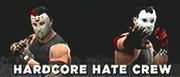 XWF's Developmental 2010 - 2011
Edit
The Hardcore Hate Crew spent a couple of years training in The Owners developmental arena, they made a name for themselves feuding with many teams such as the Birds of Prey.
XWF Career
Edit
Hardcore Hate Crew would debut in the open invitation tag gauntlet match at the Demolition PPV, but fell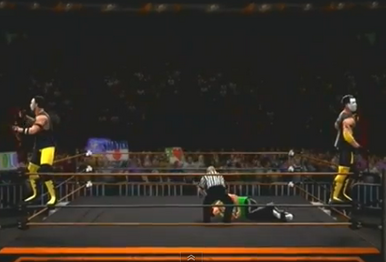 short. They would go on to win themselves a shot against the C.W.O via an XWF Interactive Facebook poll, the Hardcore Hate Crew would defeat the C.W.O to become the new Tag Division Champions. Following this victory the Hardcore Hate Crew would go on an incredible run, defending the belt repeatedly. This run lasted months, before they finally were defeated at Absolution by Birds of Prey.
Signature Double Team Moves
Edit
Hatecrime into Hatescrew
Double Backstabber
Headlock and Backstomp
XWF Title History
Edit
1 x XWF Tag Division Champions
Ad blocker interference detected!
Wikia is a free-to-use site that makes money from advertising. We have a modified experience for viewers using ad blockers

Wikia is not accessible if you've made further modifications. Remove the custom ad blocker rule(s) and the page will load as expected.