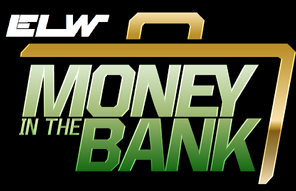 ELW Money In The Bank is a CPV created by ELW (Extreme Legacy Wrestling).
Money In The Bank 2013Edit
The event take place in Chicago, Illinois. The theme song was "Money" by I Fight Dragons. The highlights of the show are available here, here and coming soon here.
SmackDown!Edit
Sonic Boom (Flash & Dash) def. Bad Boys (The Grish & Vega) (c) to become the new ELW Tag Team Champions.
Justin Blair def. Jeffery to become the first ever ELW Cruiserweight Champion. After that, John X appeared to congratulate Justin Blair for his victory.
Younes Xevion (c) def. Lula and Angus in a Elimination Triple Threat Extreme Rules match to retain the Intercontinental Championship. To show respect Lula raised Xevion hand
Caesar Dan (c) def. AJ Reyes (with The Icon as Special Guest Referee) to retain the ELW World Heavyweight Championship. After that, Icon attacked Dan, but he was AKOed by Reyes.
DJ Hero def. Caesar Dan (c) to become the new ELW World Heavyweight Champion. DJ Hero used his contract SmackDown! Money in the Bank.
RAW Danger ZoneEdit
Falls Count Anywhere match: Justin Electric vs. Tar. This match is exclusive for SmackDown!
Ad blocker interference detected!
Wikia is a free-to-use site that makes money from advertising. We have a modified experience for viewers using ad blockers

Wikia is not accessible if you've made further modifications. Remove the custom ad blocker rule(s) and the page will load as expected.