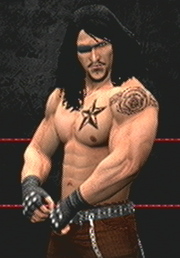 Dominic Spade, real name Dominic Purcell is a professional Wrestler currently signed to the XWF. He makes up one half of the Poker Kings Tag Team. He is known for being a big man that is also able to hit some rather athletic moves for his size such a using a dropkick as part of his regular moveset.
Early Years 2006 - 2011
Edit
Dominic Spade spent alot of his early years on the indy circuit with his tag team partner Curtis Clubs, they made a name for themself as a powerfull duo, having rivarlys with some of the biggest tag teams on the circuit.
XWF Career
Edit
The Owner had heard about the Poker Kings via various wrestling websites and forums, and decided to contact them before the XWF Shows were due to start, managing to ink a deal with them fairly quickly. Since then the Poker Kings have seen alot of screen time and wrestled in a vast number of high quality tag team matches.
Finishing and Signature Moves
Edit
Finishing Move(s)
Signatures Move(s)
XWF Title History
Edit
Dominic Spade currently has no title history in the XWF.