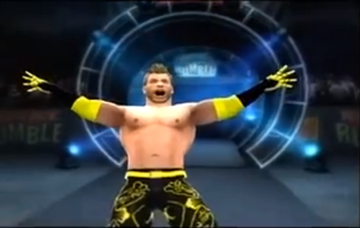 Doctor Z is a wrestler in the world of CAW. He is currently signed to YUW (Youtube Ultimate Wrestling). He is a former European & Intercontinental Champion.
YUW (2012-present)
Edit
Debut, European Champion & Various feuds
Edit
Doctor Z made his YUW debut at Royal Rumble as the European Champion where he took on to Wildstyle in a winning effort. At Elimination Chamber, he competed in the Elimination Chamber match for the World Heavyweight Championship but lost to RJ. At WrestleMania 1, he lost his title to Viper. At Extreme Rules, he faced Viper for the European Championship in a Extreme Rules match in a losing effort. He competed in the Money in the Bank ladder match but lost to Ghostface. At Summerslam, Dr. Z interrupting a promo by YCW star Straight Code Star. At Night of Champions, he faced Straight Code Star in a losing effort. He would go on to defeat Straight Code Star at Hell In A Cell in an Extreme Rules match. At Survivor Series, teaming with Amazing Troy and Zack-O in a losing effort against Dark Side Demons (Ghostface, Angus & Wildstyle).
YFW (2014-present)
Edit
It was reported that Doctor Z had signed a contract with YFW (Youtube Full Wrestling). When he will debut is unknown.
Championship History and Other Accomplishment
Edit
YUW:
World Heavyweight Champion - 2x
European Champion - 1x
Intercontinental Champion - 1x
Royal Rumble (2016)
RpW:
Anarchy Heavyweight Champion - 1x (Current)
Finishing and Signature Moves
Edit
Finishing Move(s)
Signatures Move(s)
Shooting Star Press
Jumping DDT
Entracnce Music
Edit
Theme Song:
"Here to Show the World" by Downstait (2012-present)