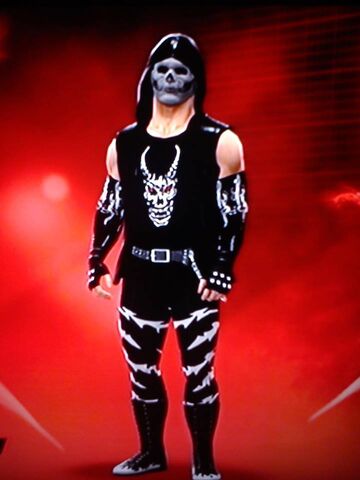 Dark Shade is a original CAW who is currently signed to ELW (Extreme Legacy Wrestling).
ELW (2008-present)
Edit
When Dark Shade made his debuit he wanted the King of KO Kid Wild he was the youngest and best out there so Kid Wild Challeged him to TLC match and Kid Wild won and then Dark Shade challenged him to a Hell in a Cell and Dark Shade won so the point was 1/1 so Dark Shade was challenged from one more match with Kid WIld wich was a KO match it was the first won to be konked out loses so it was mixed with a falls count anywhere. T-man hated Dark Shade for ruining his match for the world heavywheight title so they had a #1 contenders grudge match and Dark shade won. Dark Shade met the Heavywheight champion Tar in a falls cout anywhere and Dark Shade beat Tar and after that match Tar was attacked by a mysterious superstar. T-man and Kid Wild had #1contender match for the World heavywhieght championship and Kid Wild won so at Breaking Point Dark Shade vs Kid WIld and Dark Shade lost to Kid Wild with the inteference of T-man. Dark shade and T-man were in a hated rivalry and the crowd was loving it T-man and Dark Shade were fighting in the audience at smackdown while the match vs Kid wild and Bison was going on. at ELW Bragging Rights it was Dark Shade vs T-man in a steel cage match ad dark shde has won with power bombing T-man from the tipe rope and climbed the cage.
Championships and Accomplishments
Edit
ELW:
ELW Champion - 1x
Hardcore Champion - 1x
Ad blocker interference detected!
Wikia is a free-to-use site that makes money from advertising. We have a modified experience for viewers using ad blockers

Wikia is not accessible if you've made further modifications. Remove the custom ad blocker rule(s) and the page will load as expected.