Dan Konopski currently is signed with NSWL and OCW (under the name Caesar Dan). Dan is a veteran to the wrestling business. He may be a little arrogant at times but always gives it his best and puts on a great show.
Tag Teams and Beginnings
Edit
Dan was one of the orignial members of the 8-man tournament in season 1 of NSWL. Though he was unsuccessful, he countined to give it his all entering season 2. He started a tag with his long time best friend Josh. They were known as "SES." most people assume they were straight edge, as their name resembled CM Punk's straight edge society. But they were wrong, Josh and Dan simply just had their own meaning of the word. Though SES never captured the coveted NSWL Tag Team Championships, they always put on some great matches. Soon Josh and Dan would part there ways to focus on their solo careers. 
Turning Heel
Edit
For the remainder of Dan's season 2, he would not win any championships. As the season ended, Dan went into season 3 with some better ideas. Dan started season 3 stealing the show. He had fromed an intense rivalry with Nate, who had previously been a tag team member with Josh. Dan turned his jealously into rage and had some incredible matches with Nate. Perhaps his best was an extreme rules match with Nate at the PPV Extreme Rules. At the end of this rivalry, Dan came out victorious in the end. After laying kinda low for a little while. Dan eventaully did what no one expected. Dan had formed an allaince with Nate. His goal was to steal the company away from Josh. Him and Nate would attack superstars backstage and Josh was outnumbered. At Wrestlemania 3, Dan and Nate faced Josh and Dalton in a tag team match. The winners would become the general managers of the company. Dan and Nate weren't successful though. Dan and Nate were then fired for their actions against the company.
Dan's Return
Edit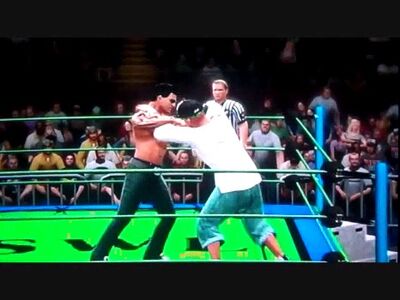 After Season 3 Wrestlemania, Dan was fired, but during the offseason, Dan had apoligized to Josh for his actions and was re-signed to a contract. He now goes into Season 4 with a better image as he looks to be the showstopper he was back in season 2.