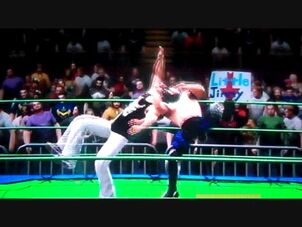 Dalton Pitts, better known as Dalton or DJ Hero, is a charasmatic and well performing wrestler that is currently signed with 
NSWL
 and 
OCW
.
In the Beginning 
Edit
Dalton was an original competitor of NSWL Season 1, he was in the 8-man tournament to determine the NSWL Champion, he was victorious in the tournament and went to the final round of the tournament. He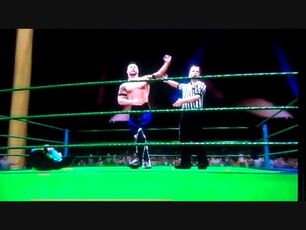 faced Ryan in an inferno match for the title. In an epic match, he fell short and lost the match. Afterwards, Dalton left NSWL to work on his own project. He developed his own company known as OCW. Due to his long time friendship with Josh, NSWL stars came to compete in OCW as well as NSWL.
The Return
Edit
During NSWL Season 3, Josh was in need of help to fight off the stable of Nate and Dan. So Dalton decided to re-sign a contract with NSWL and came to Josh's aid. Josh and himself beat Nate and Dan and Dalton had taken some control over the company. Mainly with the creative directing and superstar management. He then decided to compete in both OCW and NSWL.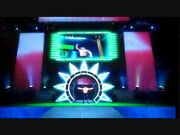 The Promo
Edit
During NSWL Season 4, on episode 3, after a loss to the United States Champion, Mark (The Canadian Superstar), Dalton took a microphone and spoke his mind about his long time friend Josh and the company. In this infamous promo, Dalton argues how Josh always can let the personality of a superstar can influence his decision making in the show. He then went on ranting about the other shows flaws. This outburst was the biggest in company history. Yet Josh still granted Dalton a #1 contendership opportunity in a fatal 4-way against Dan, Derek, and Josh. Dalton focused his whole match against Josh and came out victorious. He will compete against Mr. Miller in a Hell in a Cell match for the NSWL Championship at the Hell in a Cell PPV. 
Leaving the Cell from Hell a Champion
Edit
At Hell in a Cell Season 4, Dalton had a title shot for the NSWL Championship. He would be in a Hell in a Cell match with the current Champion, Mr. Miller. After a long fought match, Dalton used the Super Kick and pinned Mr. Miller to become the new NSWL Champion. He showed his rival Josh that he was the best the company had to offer. Then the Josh and Dalton rivalry would begin.
Accomplishments
Edit
NSWL Champion - x1 (Current)
1 Win, 1 Lose at Wrestlemania
OCW Career 
Edit
For more info on his OCW statisttics and career, read DJ Hero