A Championship or "title" in CAW professional wrestling is a recognition promoted by CAW professional wrestling organizations. Championship reigns are determined by professional wrestling matches,in which competitors are involved in rivalries.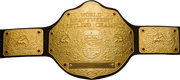 Undiscovered Caw Talent Wiki Championships
Subcategories
This category has only the following subcategory.
Pages in category "CAW Championship"
The following 70 pages are in this category, out of 70 total.
A

D

E

H

I

R

R cont.

T

V

W

X

X cont.

Y
Ad blocker interference detected!
Wikia is a free-to-use site that makes money from advertising. We have a modified experience for viewers using ad blockers

Wikia is not accessible if you've made further modifications. Remove the custom ad blocker rule(s) and the page will load as expected.