A Championship or "title" in CAW professional wrestling is a recognition promoted by CAW professional wrestling organizations. Championship reigns are determined by professional wrestling matches,in which competitors are involved in rivalries.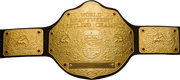 Undiscovered Caw Talent Wiki Championships
Subcategories
This category has only the following subcategory.
Pages in category "CAW Championship"
The following 73 pages are in this category, out of 73 total.
A

D

E

H

I

O

R

R cont.

T

V

W

X

X cont.

Y