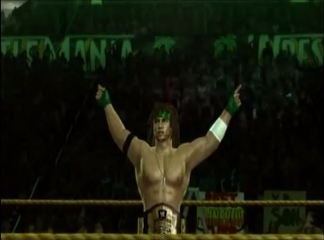 Aligah Tupua is his real name but in ELW he is better know as A- X or the Samoan Wolf or also just Samoan Sniper
ELW (2012-present)
Edit
He is a exciting superstar and he debuted with his tag partner Kid Wild. In his singles days he like the big shining gold so he made an apperance in an elemination chamber and won that champioship. HWile holding the Heavywhieght championship he encountered his own partner wanting that championship so they made a cool calm and collective rivalry for the championship but the one who wanted the championship was Mark Mathews who was heel at the time he attacked A-X and Kid Wild. Jason Cage and Kid Wild was then in a rivalry. So the 2nd cotender was Flash and flash beat A-X in a TLC match. It was road to Wrestlemania and at Wrestlemania he participated in the money in the bank contest with X-ray, Icon, Billy Roe, and Alex he lost by X-ray winning the briefcase. The Wolf Pack were soon together again and  competing for the title. Shawn Owen and Ekara were the best tag team at the moment and they wanted those tag golds. Both teams met at Armegadon and The Wolf Pack got a win. Soon at extreme rules they went versus the beast boys to win back there titles after losing them from the beast boys in a tables match they had a big win. Soon on the beast boys brand show in ECW the Beast boys beat the Wolf Pack and now hold there tag titles again.
Championships & Accomplishments
Edit
ELW:
Intercontinental Champion - 1x  
World Tag Team Champion - 4x with Kid Wild  
ELW Tag Team Champion - 1x (Current) with A-X
Cruiserweight Champion - 2x
Ad blocker interference detected!
Wikia is a free-to-use site that makes money from advertising. We have a modified experience for viewers using ad blockers

Wikia is not accessible if you've made further modifications. Remove the custom ad blocker rule(s) and the page will load as expected.